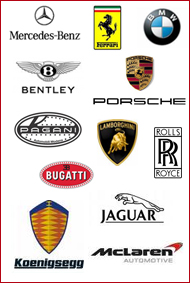 Address:
9 Iraking Ave
Moorebank NSW 2170
Australia
Tel: (02) 9822 2369

Operating Hours:
Monday to Friday:
8.30am to 4.30pm
Saturday: By appointment only
Sunday/Public Holidays: Closed
CCU - Interior & Exterior Professional Trimmers for over 30 years..
Luxury Vehicles - Marine - Aviation - Coaches & Offices.

CCU Auto Trim has been providing quality service to the Sydney area since 1987. Customer satisfaction remains our #1 goal. We provide a wide variety of re-upholstering services to fit your needs.

Over the past quarter of a century, CCU Auto Trim has gained the help of some of the most talented craftsmen in the industry and the workshop has grown to become Sydney's most professional auto restoration centre.

The unique trademark of the team at CCU Auto Trim is their obsessive attention to detail. Possessing the best tools and equipment - and employing some of Australia's best auto trim craftsmen – CCU Auto Trim has one of the highest reputations in the industry.

CCU Auto Trim's Workshop offers 1,050m² of Air-conditioned floor space, For your peace of mind, our entire premises are monitored by 24 hour CCTV including car park and workshop. allowing our hand-picked experienced tradesmen greater room to work their magic over the ever-increasing number of clients' cars.

At CCU Auto Trim, we enjoy making your convertible top, car interior, motorcycle upholstery, boat interior, Aeroplane plus much more, look like new. Your restoration is in good hands at CCU Auto Trim.

So why don't you jump in your car and head down to CCU Auto Trim's workshop and take a look CCU are Authorised Bremshey and BeGe seating assembly and Repairs. We specialise in all prestige makes and model soft tops.

Client Testimonials
I've used Manny at CCU Autotrim on 2 occasions, and intend to use his services again. On both times I've found him prompt, courteous and fastidious in his work. I'd have no problems in recommending him to potential customers.
Geoff Thomas
We, here at Exclusive Body Werks have been a proud customer of CCU Auto Trim for approximately 10 years or so. We specialise in Porsche, Aston Martin, Rolls Royce and various other prestige vehicle repairs and restorations and need to maintain the highest level of standards in which CCU Auto Trim help us to provide.  
Ron Goodman, Exclusive Body Werks